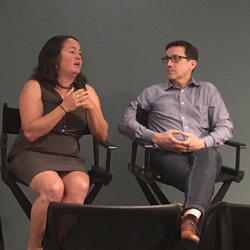 Julie Maldonado, Lecturer in Environmental Studies, University of Santa Barbara, California and Rising Voices and Edward Gardiner, Ph.D. NOAA-Affiliate.
In anticipation of the October 12-13, 2018 conference, a group of lawyers and policymakers focused on climate displacement within the UNFCC and climate scientists met to discuss the state of science that informs climate displacement negotiations.
Topics included factors that contribute to climate-induced displacement, gaps in climate data which could assist the development of legal instruments, and climate data sources and toolkits.
Generous support for the event and its planning was provided by The Collider; Infrastructure Services Group, LLC; CASE Consultants International; North Carolina Institute for Climate Studies / NC State University (NCICS/NCSU); NOAA-NCEI staff; as well as members of CISDL.
 
Atle Solberg, Head of Coordination Unit, Platform on Disaster Displacement
Professor Benoit Mayer, City University, Hong Kong, "Taking stock of research on climate change, migration and the law: achievements and remaining issues."
Knowledge gaps in the law/policy frameworks that climate science can fill
Isabelle Michal, United Nations High Commission for Refugees (UNHCR)
State of the Science
Ahira Sanchez-Lugo, NOAA NCEI Scientist - Global State of the Climate
Mike Kruk, NOAA NCEI, ERT - Sea-level Rise
Dave Easterling, Ph.D. NOAA NCEI - U.S. National Climate Assessment
Ken Kunkel, Ph.D., Scientist and Professor, North Carolina Institute for Climate Studies (NCICS) - Climate Projections and Tipping Points
The Interplay between Climate Science and Law and Policy
Marjorie McGuirk, CASE Consultants International
Julie Maldonado, Ph.D., UC Santa Barbara. Isle de Jean Charles, Louisiana
Maitre Ayman Cherkaoui, UNFCCC Cop 22 Legal Advisor to the Kingdom of Morocco. Climate Displacement in Africa.
Adam Smith (NOAA NCEI). Extreme Events and Economic Impacts
Robert Brammer, Ph.D., American Bar Association Section of Science
Isabelle Michal, UNHCR  Addressing Climate-Induced Displacements; Systems Thinking
Tools and Toolkits
Kanta Kumari Rigaud, World Bank, World Bank, Groundswell
Jenny Dissen, NCICS, NCSU - PREP India
Edward Gardiner, Ph.D., Climate Resilience Toolkit